Eurocamp in France is a fantastic place to spend your vacation. With such a diverse range of places around France, you may choose from fantastic beach resorts to the picturesque valleys of France's rivers.
There is so much to see and do wherever you go in France, and the cuisine is incredible, with each area having its own specialties.
Eurocamp in France provides you with a variety of options and a good deal.
In one of France's numerous parks, you may enjoy a French Eurocamp vacation.
If you're looking for a Eurocamp in France, you have a lot of options.
Campsites locations in France region
Normandy
This part of France is located in the north. Bayeux, with its incredible tapestry, is a must-see.
A massive whale skeleton may be seen at Luc-sur-Mer. The region's cuisine is amazing, with apple orchard brandy, oysters, seafood, cream, and cheese.
Cherbourg is home to La Cité de la Mer, Europe's biggest aquarium, as well as several museums dedicated to the region's history.
Popular campsites in Normandy
Pont L'Eveque – Château Le Brevedent
Houlgate – La Vallée
St Pair-Sur-Mer – Château Lez Eaux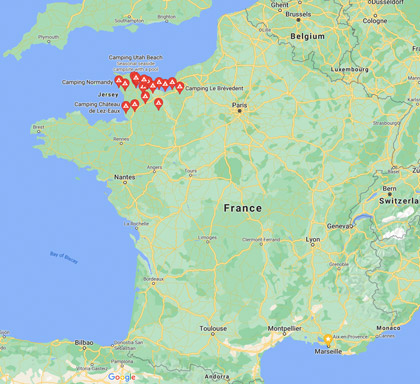 Brittany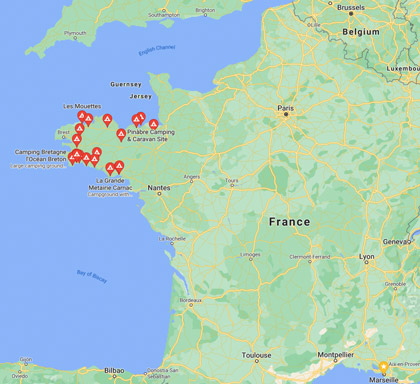 This region of France is in the North East, being on the coast it has many fine sandy beaches
Get here by train or plane – Airports at Brest, Rennes, Nantes and Dinard.
Historic fishing villages, Zoos including La Bourbansais and at Mont St Michel is a large reptile park, Alligator Bay.
Many museum's including train museum and motor museum, plus great chateaus to visit.
Loads of sport including golf, fishing, Sand-yachting, windsurfing, many waterparks and also go-carting.
Popular campsites in Brittany
St Cast – Le Châtelet
Dol-de-Bretagne – Château des Ormes
Perros-Guirec – Le Ranolien
Carantec – Les Mouettes
Bénodet – Pointe St. Gilles
Beg-Meil – L'Atlantique
Raguénès-Plage – Raguénès-Plage
Arzano – Ty Nadan
Carnac – Les Menhirs and La Grande Métairie
St Cast – Château de Galineé
La Trinité sur Mer – La Baie and La Plage
Guilvinec – Le Camping Village La Plage – Le Guilvinec
Nevez – Les Deux Fontaines
Vendee
Atlantic Coast of France – many beautiful beaches, great climate, fantastic food and drink
Enjoy swimming, golf, fishing, cycling, windsurfing, water-sports, sailing, surfing and much more in this region.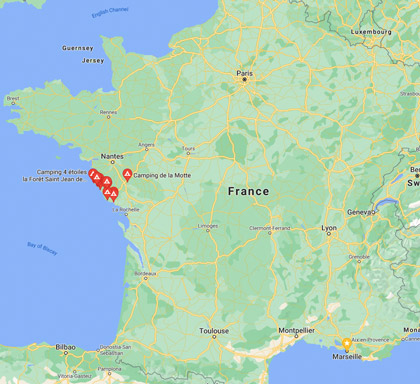 Popular campsites in Vendee
Ile de Ré – Interlude
Il de Rè – Camping Les Ilates
Ile de Oléron – Domaine D'Oléron
St Jean-de-Monts – La Yole
St Hilaire-de-Riez – Sol a Gogo and Les Ecureuils and Les Biches
St Julien-des-Landes – La Garangeoire
Jard sur mer – Les Ecureuils
La Tranche – Du Jard and Bel
St Jean-de-Monts – Le Clarys-Plage and Camping la Forêt
Holiday Villages
Talmont St Hilaire – Port Bourgenay
Gascony, Gironde and the Pyrenees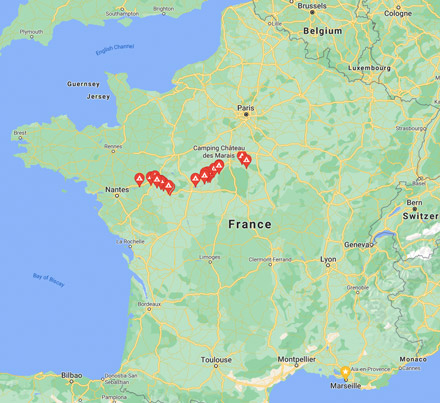 Gironde is goof for surfers, and for the less adventurous the area has lakes with calmer water activities such as sailing and swimming.
Sunflower fields in Gascony sum up the rural retreat side of France with countryside that you can enjoy as well as excellent food including Foie Gras, and Armagnac.
Stay in the Pyrennes for amazing alpine grasslands, crystal clear lakes and the snow topped mountains!
Popular campsites in Gascony, Gironde and the Pyrenees
Labenne Ocean – Sylvamar
Messanges – Le Vieux Port
Biscarrosse – La Rive
Biarritz – Le Ruisseau
Royan – Bonne Anse S.A.
Marennes Oléron – Sequoia Parc
Luz St Sauveur – Airotel Pyrénées
Holiday Villages
Moliets et Maa – Moliets
Lacanau Ocean – Lacanau Ocean
Loire
Key highlights of the spectacular area are the Chateau, Loire River, vineyards, and countryside.
Known as the Garden of France this area boasts wonderful food, hundreds of Chateaus and much history to discover.
Popular campsites in Loire
Saumur – L'Etang de la Breche
Ste Catherine – Le Parc de Fierbois
Chambord – Le Château des Marais
Candé sur Beuvron – La Grande Tortue
Pierrefitte – Alicourts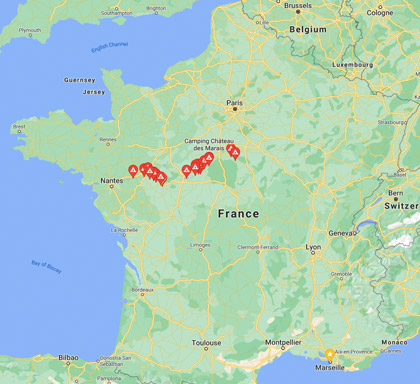 Dordogne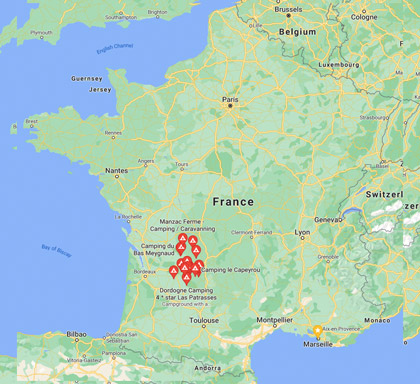 Birdwatching, strolling, cycling, and visiting châteaux are all popular activities and locations to visit in this region's beautiful landscape.
Popular campsites in Dordogne
Salignac – Les Péneyrals
Sarlat – Les Grottes de Roffy
St Léon – Le Paradis
Vitrac – Soleil Plage
Le Bugue – St. Avit Loisirs
Limeuil – Le Port de Limeuil
Daglan – Le Moulin de Paulhiac
Languedoc and Rousillon
Beaches abound in Roussillon, where you may sunbathe, swim, and take advantage of the pleasant weather.
It's ideal for walkers and those who wish to discover the Pyrenees.
Popular campsites in Languedoc and Rousillon
Argelès-sur-Mer – La Sirène and Le Dauphin
Portiragnes Plage – Les Sablons
Canet-Plage – Le Brasilia
Argeles-sur-Mer – Le Soleil
Argelès-sur-Mer – Le Bois de Valmarie
Port Camargue – Les Petits Camarguais
Marseillan Plage – Camping Club Charlemagne
Vias – Club Farret
Sérignan Plage – Sérignan Plage and Aloha Village
Torreilles Plages – Les Tropiques
Sommieres – Domaine de Massereau
Argeles – Camping La Chapelle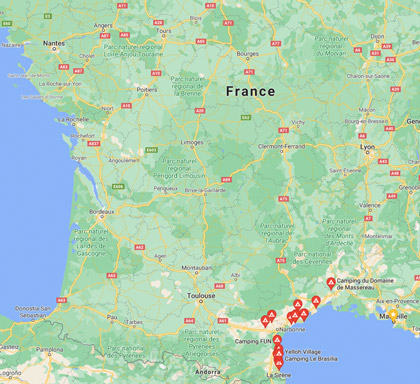 Burgundy and Ardeche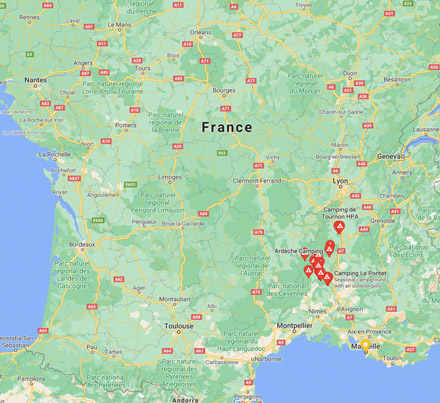 Old towns to visit, massive amount of wine grown in this region, plus 15th century hospital.
Popular campsites in Burgundy and Ardeche
Gigny-sur-Saône – Château de l'Epervière
Vallon Pont D'Arc – L'Ardéchois
Cantobre – Val de Cantobre
St Amans-des-Cots – Les Tours
St Alban – Le Ranc Davaine
Allègre – Domaine des Fumades
Holiday Villages
French Alps
Explore by car, on foot or by cable car. Amazing countryside where you can see some amazing mountains and wildlife.
Popular campsites in French Alps
Annecy Doussard – La Serraz
Bourg d'Oisans – Le Belledonne
Annecy Lathuile – Camping Les Fontaines
Annecy Doussard – La Ravoire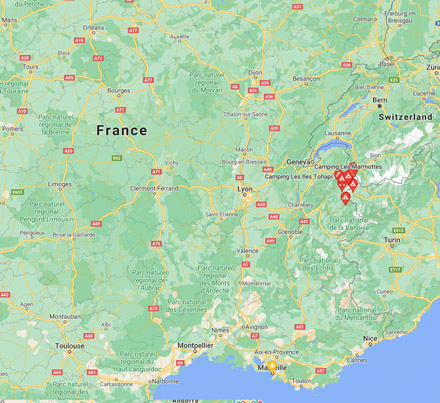 Jura and Vosges
Explore historic churches and castles, and don't forget to sample the champagne region's libations!
Popular campsites in Jura and Vosges
Lac de Chalain – La Pergola and Domaine de Chalain
Joinville – La Forge de Ste Marie
Rougemont – Le Val de Bonnal
French Riviera
St Tropez, Nice, and Cannes are among the most well-known destinations, with miles of beautiful beaches and excellent weather.
Popular campsites in French Riviera
Castellane – Camp du Verdon
Canadel – Pachacaïd
St Aygulf – L'Etoile d'Argens
Fréjus – La Baume
St Raphaël – Esterel
Fréjus – Holiday Green
Roquebrune-sur-Argens – Des Pêcheurs
Holiday Villages
Mallemort – Pont Royal
St Raphael – Cap Esterel
Grimaud – Les Restanques